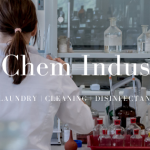 Pro-Chem – Laundry Detergent, Softener, Cleaning Chemical, Sanitizers and Disinfectant Supplier
Pro-Chem Industrial Sdn Bhd dates back to 1990s, when our founder aimed to provide top cleaning solutions to the local laundry industry. Having over 20 years of experience, Pro-Chem has always kept the same principle – providing the highest quality products and solutions to our clients at reasonable prices.
Over the years, Pro-Chem has expanded to become the leading supplier of laundry and cleaning products for various industries such as hospitality, food and beverages, private label home care product retail, healthcare and automobile.
Production and premises at Pro-Chem are halal certified. Facilities are fully set up and maintained to ensure that the manufacturing environment fully conforms to all guidelines – providing assurance to authorities and clients that all products are guaranteed high quality and safe for intended use.
Pro-Chem Industrial Sdn Bhd
55, Jalan Balakong Jaya 6, Taman Industri Balakong Jaya, 43300 Seri Kembangan, Selangor, Malaysia

,

Seri Kembangan, Selangor

43300
Mon. 08:30 AM - 05:30 PM
Tue. 08:30 AM - 05:30 PM
Wed. 08:30 AM - 05:30 PM
Thu. 08:30 AM - 05:30 PM
Fri. 08:30 AM - 05:30 PM
Sat. Closed
Sun. Closed